Exhibition
MELT Queer Art Festival
Brisbane Powerhouse
17th May 2018
_________________
Hung Dada is a solo art exhibition by Ethan Waghorn which premiered at Jugglers Art Space in Brisbane, AU on 21st January 2017.


Artist Statement:
I have always liked exploring controversy, dragging the things we hide out into the light where it can no longer be avoided. For many of us, sex is a big part of our lives but we like to pretend that it's not. It can also be a very perverted aspect of our lives. As a reaction to this, and by taking cues from neo-dada and neo-pop art, I have regurgitated all of the porn I have consumed in my life to create this digital art series that simultaneously mocks and celebrates gay porn culture.
Hung Dada is a series of vector art portraits of male figures in bold, vibrant colours. Each piece exaggerates a different part of the male body, overtly sexualising the subject beyond its physical limitations.
The juxtaposition of aesthetically pleasing yet unsettling imagery is at the core of Hung Dada.
From the eroticised figures with gross dysmorphia that arouse and disgust, to the complimentary colours that unify and contrast, Hung Dada is an obscene exploration of society's conflicting perceptions of sex. These conflicts are amplified in the exhibition space by means of animated lighting effects that interact with the prints to generate an unsettling yet hypnotic experience for the viewer, energising the subject matter with an intensity that can't be avoided.

Artist Biography:
Ethan Waghorn is an emerging Brisbane-based multimedia artist. In 2003 Ethan won first prize at the Pine River's Youth Art Awards for his work, False Hope. Ethan is the creator and illustrator of the satirical webcomic Chewing Fat. In 2013 his comic strip Bed went viral, amassing over half a million views. Since completing his Bachelor of Fine Arts (Film & Television) at QUT, Ethan has applied his visual artistry to numerous short films, music videos (Kate-Miller Heidke, Emma Louise, Cub Sport) and television commercials (Pillow Talk, QLD Tourism, Suncorp Bank). Last year Ethan embarked upon his most ambitious creative project to date, working as production designer for the upcoming science fiction feature film Space/Time.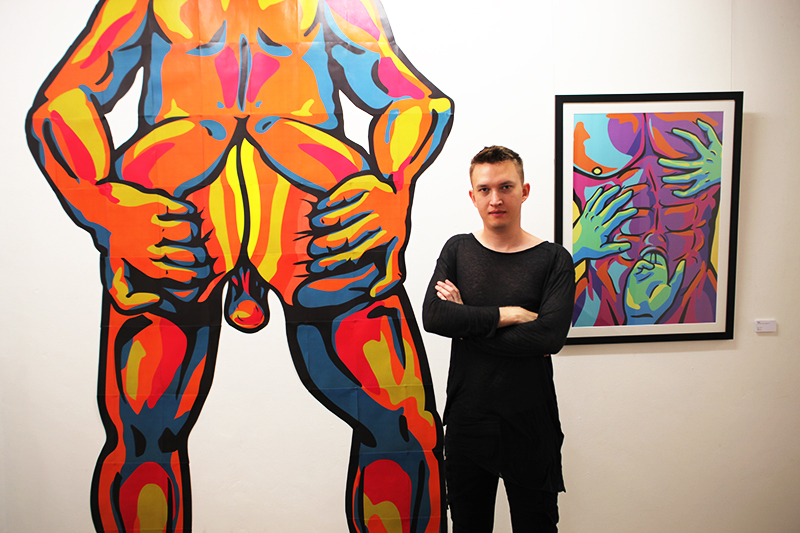 Listen to the 4ZZZ radio interview here.
For more by Ethan Waghorn visit Chewing Fat.